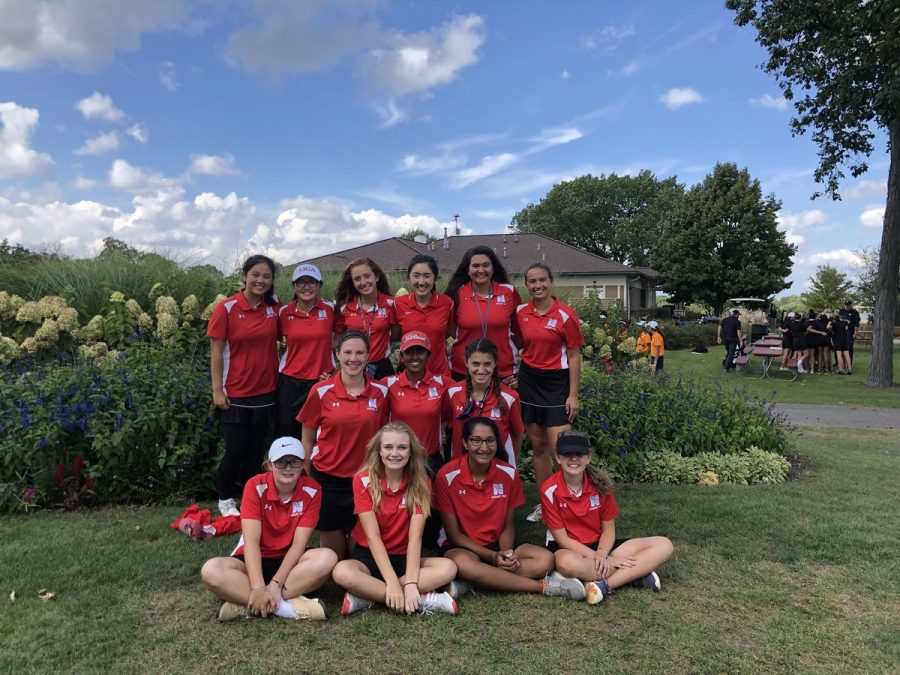 Photo source: Girls Golf Twitter
In May, the Illinois High School Association made a change to the IHSA state golf competition rules. Following the first day of the tournament, some golfers would be cut from the remainder of the competition.
Jane Thompson, Naperville Central's girls head golf coach, feels almost betrayed by the IHSA.
"As a 25-year head coach of the Naperville Central girls golf program, and as a Hall of Fame member, I feel blindsided by the IHSA's decision to 'reduce the field' during the state finals," Thompson said in a letter to the IHSA board. "This hurts the chances of many young golfers to gain experience from state level competitions, making the event just another weekend tournament."
The IHSA claims that there was an "extensive" survey of the head coaches conducted and reviewed.
However, Barry Baldwin, Naperville Central's boys head golf coach, conducted his own research, asking all the coaches he knows if they ever received this survey.
"I eventually got the survey from another coach, and the results were meager," Baldwin wrote in an email to the IHSA head golf coaches.
Twelve schools teams plus 40 individuals qualify for the state competition. The IHSA wants to lower the number of players in order to reduce the amount of distractions on the second day.
"Of the 112 students who qualify for state, only about 40 are being cut after the first day," said Kurt Gibson, associate executive director of the IHSA.
Baldwin seemed to be getting a different story from Gibson.
"Gibson told me that only one-third of the students would be cut," said Baldwin. "However, it's actually two-thirds of the kids."
Gibson took a different position on the survey issue.
"There was never a survey sent out and the decision solely rests on the shoulders of the committee," Gibson said.
The IHSA made the argument that other sports do this as well. For example, track, swimming and bowling all cut after the first day of competition.
"The cut makes for less interruption on day two, allowing the players to play better," Gibson said.
The PGA uses traditional rules by allowing all players to play through all 36 holes on the course. However, the IHSA is taking its own path.
Pro golf tournaments do not cut until after the players have completed all 36 holes. This new rule changes golf on a seemingly molecular level.
"There is no PGA or LPGA tournament that 'modestly reduces the field' after Saturday," Thompson said. "This is what any sports state final appearance should be: special."
The IHSA's committee decided to reduce the field without even consulting the coaches and how they felt their players should be treated. Many coaches find this unfair for their players because they lose the chance to compete at their highest level. Even so, the decision was made and was carried out this year.
While the boys did not see the cut in action, the girls did.
"[The cut] was awful," Thompson said. "The IHSA needs to do the right thing and give the students a tournament equal to the work they put in."