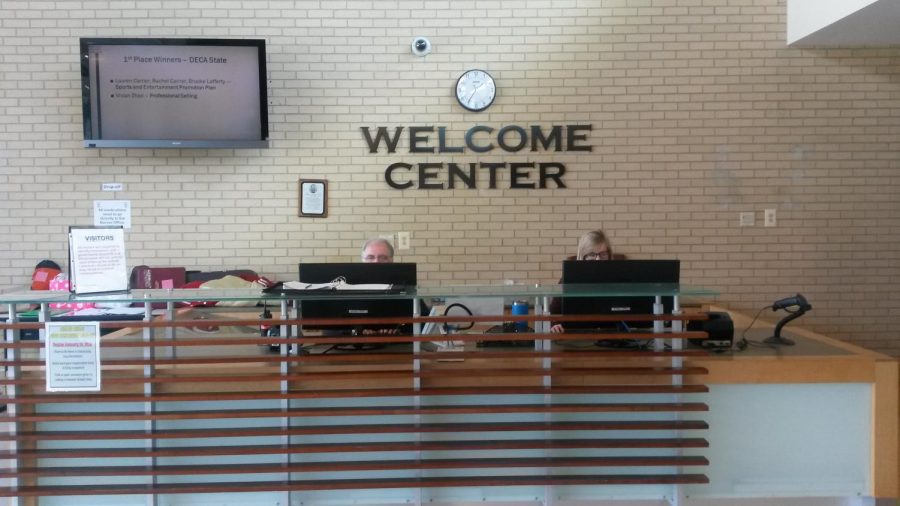 Riddhi Andurkar
Changes to existing school policies for visitors to Naperville Central will increase oversight of guests in the building and make staff more responsible for them.
Starting March 8, Central school resource officer James Tanksley, campus supervisors and deans implemented a new check-in procedure for visitors.
Tanksley outlined the new visitor policy in an email to all faculty on March 7.
"[G]oing forward, visiting alumni will need to provide documentation that they've been given permission to visit a specific faculty member at a previously designated time," Tanksley stated in the email. "Once checked in, the guests must wait at the front entrance Welcome Center until that faculty member either arrives to meet them or sends someone to meet them."
Prior to March 8, visitors were required to present a state-issued ID to enter the building. The visitor check-in system also checks the registered sex offender list.
"[Central's] visitor policy has been consistent in scanning state-issued IDs of all visitors with the exception of Naperville 203 district staff," campus supervisor Robert Gabler said. "All visitors need to have a destination and a contact person to meet."
This old policy allowed visitors to roam the building without any supervision and they were not required to wait for faculty members to receive them at the visitors' entrance. According to Gabler, this newly implemented change brings Central's policy in alignment with Naperville North's visitor policy. North has had this policy for the past four years.
"Both schools expect visitors expecting to meet with teaching staff to be the responsibility of that staff once scanned in by the Welcome Center," Gabler said. "Meet your visitor at the front and escort them to your office or classroom. When the visit is complete escort them back to the Welcome Center to be checked out."
This revision was prompted by the recent shooting in Parkland, Fla., but had been discussed in meetings prior to the shooting, according to principal Bill Wiesbrook.
"I think the change makes sense," Wiesbrook said. "It's a simple change, includes one new step and provides better school security."
Tanksley agrees.
"You never know what someone's up to […] could be a great person, [but also] could be someone who is here for other
than a good reason," Tanksley said.
He also believes that it is important to observe and make any changes to the existing school security policies.
"[The] building is pretty safe as is," Tanksley said. "You always have to […] see what you have and see ways to improve it. As [times] change you have to evolve with [them]. Maybe ten years ago it was fine, now we have to be more concerned with safety."
Tanksley also stated that this new policy will ensure that visitors will not interrupt any classes. Gabler agrees with Tanksley.
"As a campus supervisor this is the same policy I am familiar with from my time at Naperville North," Gabler said. "We are all concerned with school security and safety. We want to help create a quiet and productive academic environment for all students. Empty and quiet hallways do not occur if visitors have the freedom to roam the hallways without a proper escort."
Tanksley hopes that students and faculty make observations and help the administration continue to revise Central's visitor policy.