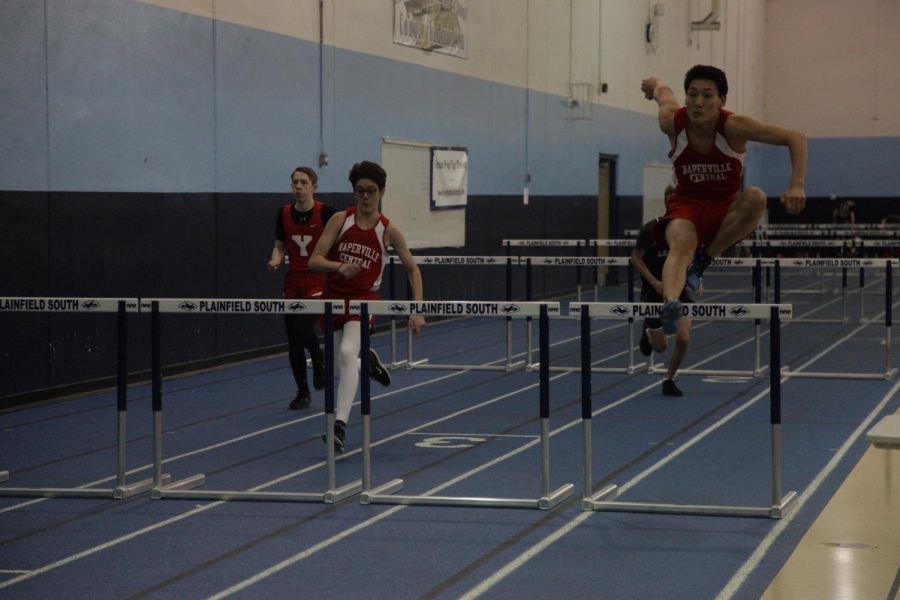 Photo by Mary Szymanski
The boys prepare at the starting line. Everyday practices after school have paid off for this one moment. The starter says "ready," and everyone jumps into position. "Set." Sweat drips down the boys' necks as their anticipation and adrenaline rise. "Bang." The starting pistol shot is fired and they all take off.
The 125-member boys track and field team have propelled themselves into a successful season with an improved team bond leading to their success at DVC.
"I think we're ahead of where we were last year and we're ahead of where we have been at this point in the season really in the last three or five years," Steven Wiesbrook, head boys track and field coach, said.
Some impressive performances have come from junior Ryan Walsh, senior Omarr Roberts, junior Cade McDonald, junior Justin Agema, and senior Carlos Ochoa, according to Wiesbrook.
Junior Andrew Williams compares this year's team to previous ones.
"The team atmosphere is really good this year," Williams said. "Everybody's really working to get to know each other better which is different for us because we have a lot of people on the team."
The improved team culture has also helped performance.
"The culture seems to be a lot better and there seems to be a better bond with different event groups which we've had issues with [before]," Klein-Collins said.
Wiesbrook has three main objectives for the team.
"My goals are pretty simple," Wiesbrook said. "Everybody tries their best […] We're looking to maximize our PRs as a team and as individuals. My goals are that we place in the top half of every invitational that we go to, and so far we are there, and to be in the top 3 in our conference in the DVC [DuPage Valley Conference]."
The sophomore boys team won DVC and varsity placed fifth, beating Naperville North, Waubonsie Valley and Glenbard North.
Junior and distance event captain Seth Klein-Collins enjoys the team bond at meets.
"At the meet when we're all together, it's nice to know the other people and you go cheer them on, instead of having your friends from your event group, you have the whole team," Klein-Collins said.
Wiesbrook agrees.
"It's always exciting for me to watch people do things they've never done before," Wiesbrook said. "That's probably the most gratifying part of my job."
The boys' next meet will be on April 7 against Wheaton North.