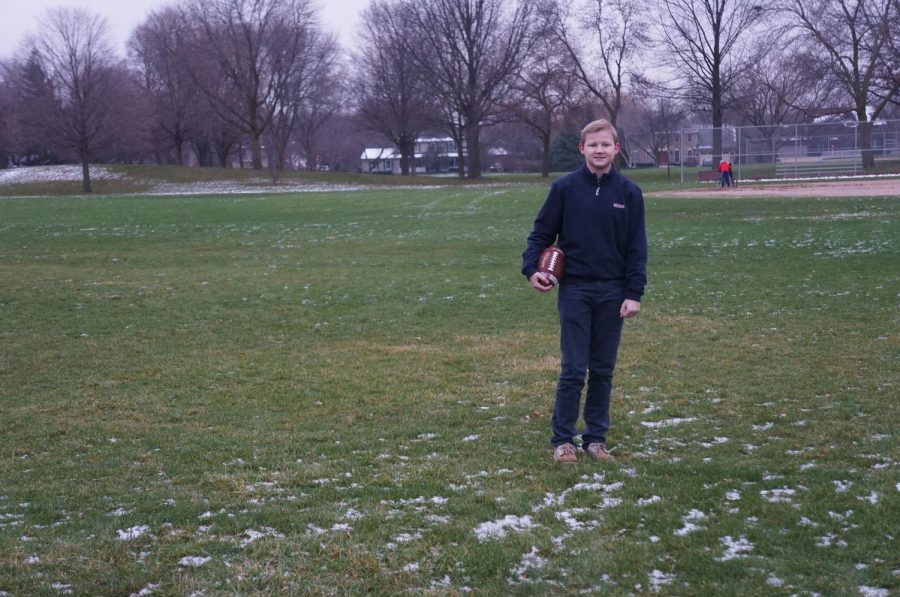 Archive Photo by Freya Sonnichsen
It was common for junior Connor Hunt to keep the extent of the pain he felt from others.
"I always think back to when he shot a really good round [during a golf match]," Hunt's golf coach Barry Baldwin said. "He came off with this big smile. It was then that I found out that he had had the treatment in the morning. He had to just be feeling terrible at the time, but he ground it out. [Hunt] was able to overcome all of his difficulties and
play for his teammates."
The treatment that Baldwin was referring to was the chemotherapy that Hunt was receiving to treat his rhabdomyosarcoma, an aggressive form of rare childhood soft tissue cancer that would eventually lead to his death.
On Tuesday, Feb. 13, Hunt passed away, surrounded by his family. He was 17 years old. Hunt is survived by his parents, Gary and Tara Hunt, and his two siblings, Keegan and Ashleigh Hunt.
"He was always very strong and positive, and always put other people first, which I think made him just an incredible human being," Hunt's mother Tara Hunt said. "Just a great person, a great friend, a great son."
Hunt had been battling cancer from sixth grade when it was first discovered. After treatment, he was cancer-free for a year before it returned when he was in eighth grade. He was treated for two more years following that, but his cancer returned again last summer.
Hunt was treated at the Ann & Robert H. Lurie Children's Hospital of Chicago. Despite the extensive treatments he had to undergo, Hunt would not complain.
"People should remember [Hunt] for his kindness, for his ability to get along with others and the fight that he had in him to overcome obstacles," Baldwin said. "When things weren't going right for him, he was going to make sure that it went right for others."
Sophomore Rachel Ryan and her family have been close with the Hunt family for a long time, long before Hunt got sick.
"When his mom would walk him to elementary school and drop him off he would run away so my dad would have to get out of the car after he dropped us off and run after him," Ryan said.
While Hunt was an avid sports fan, he had a special love for the Chicago Cubs.
"One of my favorite memories with Connor is when my mom took me, him and my brother to the Cubs game together," Ryan said.
Besides the Cubs, Hunt enjoyed watching and playing many other sports, including football, wrestling and fishing.
"Once he was diagnosed he couldn't do contact sports, so when he was a sophomore at Central he decided to take up golf, which he ended up loving," T. Hunt said.
Despite the limitations his cancer placed upon him, Hunt was an active member of the boys golf team, playing on the junior varsity team his sophomore year and the varsity team his junior year.
"[Hunt] always put the team first, especially during his sophomore year," Baldwin said. "He would go to chemo treatments during the day, and he would come to golf practice after those treatments."
And although Hunt's cancer was a constant in his life, his friends and family don't remember him because of his illness.
"[Hunt] was always funny and trying to make sure that everyone else was happy too," said sophomore Robert Lopez, who met Hunt in elementary school and had been friends with him since. "He was a humorous, kind-hearted person who cared about others."
Hunt will be missed by his family and friends, who believe they are blessed to have known him.
"It was an honor and a joy for me to be his mother, and I don't know how I got so lucky to have him for a son because of the kind of person that he was and the life that he led and the way that he just put others at ease and always put others first," T. Hunt said. "He was such a strong young man."
In 2015, the Central Times wrote about Hunt, who was a freshman at the time. When interviewed, Hunt credited his family members for their continued support throughout his treatments.
"It's helped my family realize what is important in life," Hunt said. "Having each other — not material items."
Riddhi Andurkar and Megan Troke contributed to this story.