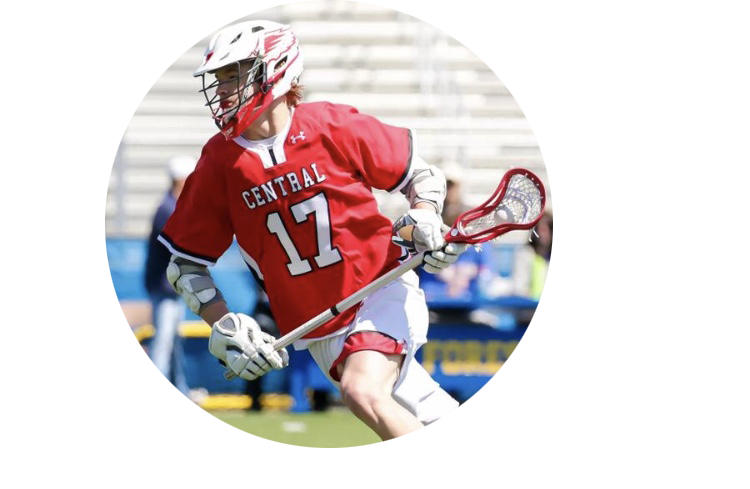 The sound of a lacrosse ball bouncing is like a magnified heartbeat. And when a skilled lacrosse player does just that, hitting the ball against a wall or a rebounder, the sound seems almost never-ending, with perfect intervals between each bounce.
For senior Tommy Coyne, the rhythm, the steadiness of that bounce, is soothing.
"To me, it's definitely an escape from the real world," Coyne said. "If I'm sick of school or I'm tired from sitting in a chair all day I just go home and play around."
Coyne started playing lacrosse in fifth grade, and is currently a member of the Naperville Central boys varsity lacrosse team.
"I was sick of baseball, like a lot of lacrosse kids get," he said.
Coyne noticed a flyer in his neighborhood advertising for a lacrosse clinic and decided to go.
"Ever since then, I've just loved the sport and it grew to be my passion," he said.
Coyne, who moved to Naperville from Georgia in seventh grade, considers lacrosse a constant in his life.
"I'd say the competition was the same," he said. "There wasn't anything different with that. Lacrosse definitely helped me meet new people […] I met a bunch of my friends through it. Everything worked out with that."
But lacrosse is not the only sport that Coyne plays. In fact, Coyne has played a number of other sports since he was young. They include baseball, soccer, basketball, which he played until eighth grade, and football. He was on the Central varsity football team and was honorably mentioned by the Naperville Sun when they named the 2017 Football All-Area Team.
There is one sport Coyne never got the chance to play: hockey.
"Hockey wasn't big in Georgia, so I never really got into that," Coyne said. "That's a regret, though. I definitely would've played hockey if I started earlier, since the teams are so good out here."
Coyne's sport of choice, though, will always be lacrosse.
"Since fifth grade, that's all I've really been sticking to," he said.
However, this year, Coyne will not be playing for the Central lacrosse team. He's heading to Rutgers University, graduating early so that he can play for a Division 1 college lacrosse team second semester.
"I fell in love with Rutgers and all they had to offer," Coyne said.
Coyne was scouted by Rutgers after a tournament in Pennsylvania his freshman year. After talking to the coach, he decided to commit there in November of his sophomore year.
"The day I committed was cool," he said. "I had talked to [the coach] the night before about scholarships and how much money I would be getting. Basically, I called him up and told him I wanted to play, and if anything changed, I would contact him."
Coyne did not know that he was graduating early when he committed two years ago. In fact, Coyne and his roommate are the first students to graduate early in order to play lacrosse during Rutgers' spring season. He was notified by the head coach at the end of the last school year about the option to do so.
"I didn't know what to expect," Coyne said. "It was kind of crazy and I obviously had to figure it all out with my parents and ended up making the decision to leave early."
After careful deliberation, Coyne decided that graduating early was worth it.
"[Factors I considered were] the competition level, getting there and definitely working on my game and becoming a better player," Coyne said. "Also schooling, taking care of some extra credits and getting that all figured out, and college is a pretty cool place, as everyone says, was another factor."
At Central, Coyne will be missed.
"He's a great leader, and if he's doing something wrong, he's gonna say he's doing something wrong, and if you're doing something wrong, he's going to say you're doing something wrong," junior and lacrosse player Jake Stegman said. "He's definitely going to call you out. He's trying to make everyone around him a great player."
Stegman, who has played lacrosse with Coyne for the past two years, believes that Coyne's decision was for the best.
"I know it's the best situation for him right now," Stegman said. "I'm going to take over, be a leader, fill his spot, do what he's taught me."
Coyne looks forward to springtime.
"Obviously, I'm going to be sad leaving Central and all the teachers and all my buddies and that kind of stuff," Coyne said. "I'm sacrificing a lot of that, but I think in the long run, it should all work out."