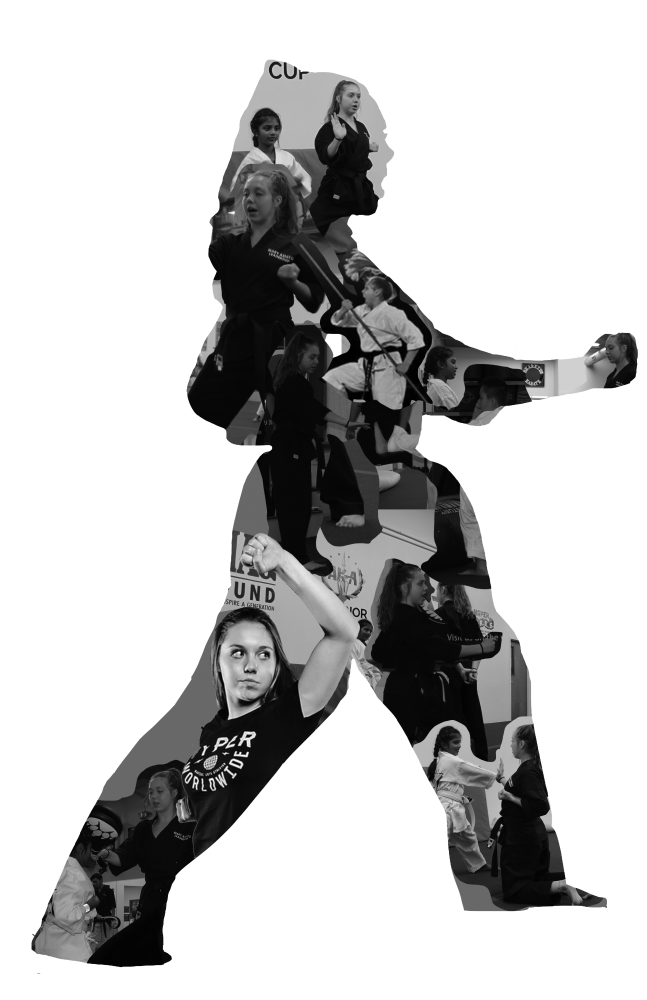 Yoo Young Chun
Junior Mary Amato kneels on the floor and directs the young girl standing in frontof her.
"Punch me."
Her student, Sloka Bomireddy, looks up at her, hesitating.
Amato repeats her directions: "Go on, punch me."
Bomireddy juts out her fist in a quick, swift motion, stopping inches before Amato's chest. Amato tells her to do it again. This time, as Bomireddy extends her arm, Amato also moves, fluidly bringing her hands toward Bomireddy's fist and stopping her motion. Then, Amato tells Bomireddy to do what she just did, and their roles are reversed, as Bomireddy blocks Amato's deliberately gentler punch. The lesson continues, with Amato pausing at times to correct Bomireddy's form.
For Amato, this is all part of a normal day. As both a karate instructor and student at Sharkey's Karate Studio in Naperville, Amato's evenings are spent at the studio, either right after school until the nighttime.
On weekdays, Amato is picked up by another sensei, or martial arts teacher, and brought straight from school to the studio, where she teaches and trains until around 9 p.m., when she leaves for home. Amato is also at the studio on weekends, spending four to five hours there on Saturdays. Once a month, she goes to a tournament, missing about two days of school.
"I travel the country for karate tournaments," Amato said. "I let my teachers and the administration [know about] all of the traveling."
While Amato does have a busy schedule, she believes that her martial arts training has helped her cope with her workload.
"The biggest thing about martial arts is the discipline and determination," Amato said. "I think from martial arts I'm able to do and apply a lot of these things to my life." Amato tested for her adult black belt this summer. In Amato's studio, the adult black belt is the highest belt she can test for and obtain. She'd been training for it her entire
time at the studio.
"It was one of my life goals," Amato said. "I've grown up [at the studio], so it's always been on my mind."
Amato had tested and obtained a junior black belt when she was 13, and the only belt she hadn't gotten was the adult black belt. However, she could only test for her adult black belt after she turned 16.
"Now that I have it, it's a whole new chapter in martial arts," she said. "I've been an instructor since I was maybe 14, but now that I'm an adult black belt, it's such an empowering feeling."
Hunter Lyon, the membership manager at Sharkey's Karate studio, speaks to Amato's character.
"She takes [karate] very seriously," Lyon said. "Any type of extracurricular, sport, competition, obviously you go to have fun, but she […] really focuses on what needs to happen […] She always maintains holding her head high regardless of the outcome."
Amato trains in an Okinawan style of martial arts. Martial arts is comprised of many different styles, including taekwondo, jujitsu and karate. Amato trains in the art of karate, but her style is called Shorei Ryu.
"My style, it's very strong moves […] like hard distinct moves, very crisp," Amato said. "Tai Chi, the more Chinese soft style is very smooth and elegant, while Shorei Ryu karate is very point A point B."
Although Amato considers Shorei Ryu the traditional style that she trains in, she also learns Extreme Martial Arts.
"[Extreme Martial Arts] is the martial arts that takes karate moves, takes taekwondo, takes Wushu, takes gymnastics, takes acrobatics and dance and puts it all together," Amato said. "That's the very flashy, musical type."
When competing, Amato chooses to perform katas, or forms.
"It almost looks like a gymnastics or dance routine, just of karate moves," Amato said. "You have to know how to fight. It's just a series of fighting moves put together in one choreography."
Amato is part of Team AKA, a martial arts team that competes internationally for individual awards. She competes against 16 and 17-year-old girls, and she usually wins tournaments or places in the top four during them. Currently, she is the North American Sport Karate Association (NASKA) world champion in her division.
"The girls are so good, which makes me work even harder," she said. "There could be 20 of us girls competing in it, and
any of us could take first place. The cool thing is that we're all friends."
Amato began to train in karate at a young age, due to her parents' involvement in the karate studio. Amato's mother, at the urging of her father, had decided to go to classes with him. She continued to do so even after Amato was born.
"I was going to quit when I had her to stay home with her, and Sensei Sharkey said, 'Definitely not, I'll hold the baby,'" Amato's mother Jennie Amato said. "He would hold her while he taught our classes, so she really grew up there."
Amato agrees.
"I was born into the karate school," she said.