Female athlete of the year: Meridith Hannan
Hang on for a minute...we're trying to find some more stories you might like.
Meridith Hannan sits in a classroom, staring out the window. She almost speaks a few times, but trips on her words. Hannan, a four-year varsity soccer player, can't seem to find the right way to explain how significant Central's soccer program has been to her. Finally, she settles on five simple words.
"It has done so much."
Having been on the soccer field since she was 5 years old Hannan entered Central with the intention of continuing the sport she loved. When tryouts came in February of her freshman year, Hannan was in the field house, showing the coaches that she was good enough for the soccer program.
At the end of tryouts, Hannan had made the varsity team.
"It was a big surprise [to make varsity]," Hannan said. "I wasn't sure if I was going to be able to do that. It was also a great learning experience… I found a group of friends and friendly faces [to see] in the hallway."
While Hannan was initially nervous about playing at such a high level, varsity coach Ed Watson believes that each year, she has proven herself to be a valued member of the team.
"[Hannan] cares about the process," Watson said. "She has grown every year from a talented freshman being asked to help the older girls to being a true leader of the team."
Watson said that even as a freshman, Hannan had a "knack" for finding goals and was a mentally tough player. As the years went on, Hannan has only grown.
While some players only want to be told they are talented, Watson said Hannan is committed to continuous improvement.
"I know she has the same desire to win that I have, so it's a lost easier to push her because she doesn't shy away," Watson said.
Watson describes Hannan's role on the team as "wonderful." Hannan feels the same way about her coaches.
"[Soccer] has given me a good family," Hannan said. "I always have the coaches to rely on if I need them or with [writing] letters of recommendation."
Hannan's impact on Central's athletic community has permeated throughout the school. During her sophomore year, Hannan was nominated for and accepted into the J. Kyle Braid Leadership Foundation (JKB), a program which "is designed to empower high school students to improve lives and foster social harmony," according to the foundation's website. Essentially, students in JKB are athletes with good grades who are committed to being leaders and being drug- and alcohol-free.
"[JKB] has taught me that I can do anything I think I can from putting on big events and fundraisers to affecting people around me," Hannan said.
The program has also helped Hannan develop a thicker skin and stand up for what she believes in, in regards to drug and alcohol use.
From soccer to JKB, Hannan has been a successful athlete at Central for the past four years. Her athletic prowess and character have left an effect on both her teammates and coaches.
"[Hannan] sees the best in everyone, which is good to have as a teammate and a friend because when as a team [we] get down on [ourselves] we can always count on her being there to lift everyone's spirits," Paige Suchevits, a senior soccer player, said. "She's just such a good leader and leads not just with words but with her actions and examples. I really look up to her as both a player and a friend."
Watson agrees with Hannan's significance as a teammate and player.
"I like that [Hannan] doesn't take herself too seriously," Watson said. "She knows we [coaches] care about her but also knows we can go back and forth. She doesn't get too caught up in the minutia. She sees the big picture. That's always the hope of a coach for another player to grow into that role, like [Hannan] has."
Hannan, as she prepares to attend Fordham University in New York next year, will also miss Central soccer and the impact it has had on her.
"[I will miss] playing at home on the turf [with our] warm-up CD and fans," Hannan said.

About the Writer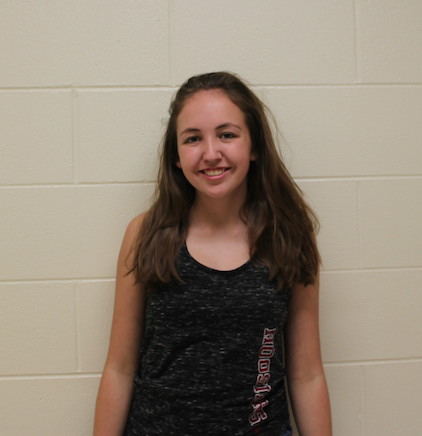 Lexi Haskell, Editor-in-Chief
Lexi Haskell is a Senior with 2016-17 being her third year on the Central Times Editorial Board. Lexi is the 2016-2017 Editor-in-Chief and Sports Columnist....