Senior Jane Szymanski organizes cross country Christmas caroling
Hang on for a minute...we're trying to find some more stories you might like.
It started as a joke, as do many of senior Jane Szymanski's ideas. It was the middle of the 2015 cross country season, and for one reason or another the topic of conversation between Szymanski and her friends fell to making a singing group. And not just any singing group: an a capella group composed entirely of girls on the cross country team. From there the idea evolved until it reached its final form as a Christmas caroling party for the entire girls XC team with it's own brand name, "Crocapella."
"We were at practice, and I can't remember why, but we were talking about a cross country a capella group," Jane said, "And then I thought 'Crocapella,' because cross country and a cappella becomes Crocapella (not related to Crocs [shoes])."
While the initial plan to make a singing group was met with great enthusiasm from Szymanski's underclassmen friends, her other friends were more skeptical.
"I always think of stupid ideas, but I don't usually follow through with them until someone begins to hate, and that's when [I think] oh, now I have to do it," Jane said, "Haters are my motivation."
However, with more discussion, Jane hammered out a more practical plan to harness the team's musical power. She decided that she could host a Christmas caroling party to get the whole team involved. Most mornings for over a month, she and some accomplices wrote running parodies of popular Christmas songs in the basement locker room. Their list included "The 12 Days of XC" (parody of "The 12 Days of Christmas"), "I Don't Want a Lot For XC" ("All I Want For Christmas Is You"), "Trashy the Horse" ("Frosty the Snowman"), "Cross Country Baby" ("Santa Baby"), "Blondell the Coach" ("Rudolph the Red-Nosed Reindeer") and "Running Around the Christmas Tree" ("Rockin' Around the Christmas Tree").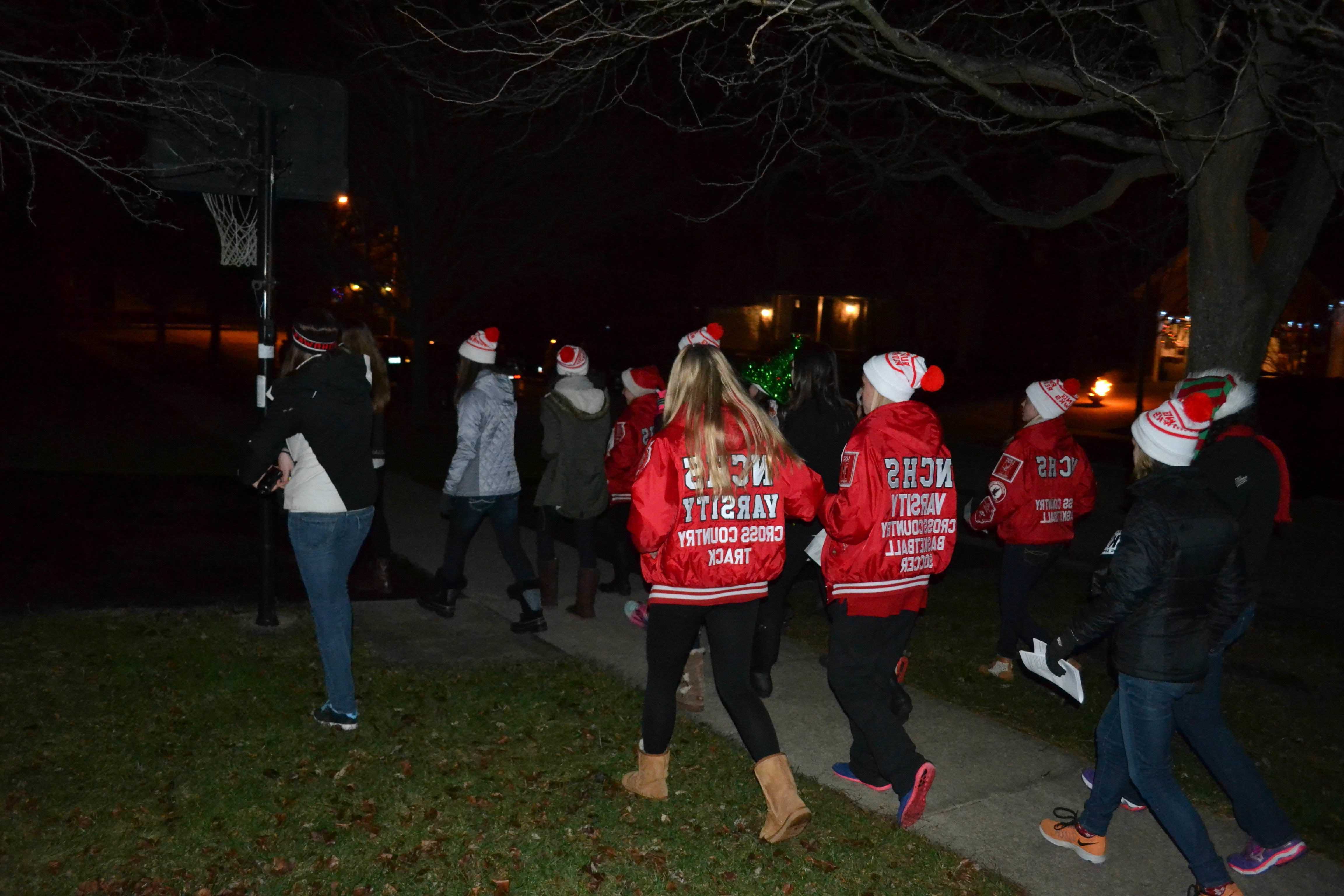 "We just used 'The 12 Days of XC' just because they were all bad and weird. Oh, 'Trashy the Horse', that one was really good, but no one would get because it's such an inside joke," Jane said, referring to the stuffed horse some team members had rescued from a dumpster while on a run.
In addition to writing songs, she took an unprecedented enthusiasm in preparing her house for the holidays.
"She was like a different person," said her father, Paul Szymanski. "It was like having a different daughter in our house as she prepared for that event."
According to her family, Jane isn't usually the most helpful when it comes to cleaning for a party.
"I become more passionate when it's something that I love," Jane said. "I'm more involved because I actually care. [For example] I don't care about my sister's birthday [party]."
To make the party more of an experience, Szymanski designed t-shirts with her own special Crocapella logo and added a White Elephant gift exchange to the activities.
"We made shirts, they're awesome and who doesn't love a quality shirt?" Jane said. "I designed a logo that's a treble clef turned on its side and it says XC. We decided to do White Elephant gifts because who doesn't love a nasty, old gift?"
The party was planned for the night of the last day of school. The house was immaculate, the basement decorated floor to ceiling with Christmas lights, gallons of hot chocolate were warming in a crockpot, the t-shirts had been delivered and the song lyrics were printed and stacked. Around 40 girls showed up, talking by the fire that had been placed on the driveway or getting treats from the table set up in the garage while they waited for the caroling to start. After a few practice rounds, the group was off.
"I mean, we were terrible at singing, just the worst group of singers ever," Jane said.
Nevertheless, the guests remember the party fondly.
"I think [Crocapella] was a really cool thing to do because we were all able to step out of our comfort zones, but we were able to do it together which helped us bond as a team," said Sarah Komon, who graduated last year. "The whole night didn't really involve anything with XC, which made it more interesting to see how we are more than just teammates and can do things outside of running and still have a ton of fun together."
Prompted by her friend Erin Kainrath, Jane decided to raise a little money for Feed My Starving Children while caroling. By asking the people whose houses they stopped by for a donation, the group managed to raise $160 for the charity.
With the massive success of Crocapella, Szymanski hopes that it will become a tradition in the coming years. Even though she's graduating this year, she plans for her sister Mary Szymanski, a sophomore, to keep Crocapella alive.
Jane is currently preparing for the second annual Crocapella night.
"I'm already stocking up for white elephant gifts this year," Jane said. "I got a lot of trash in my closet. I've been storing it for a year."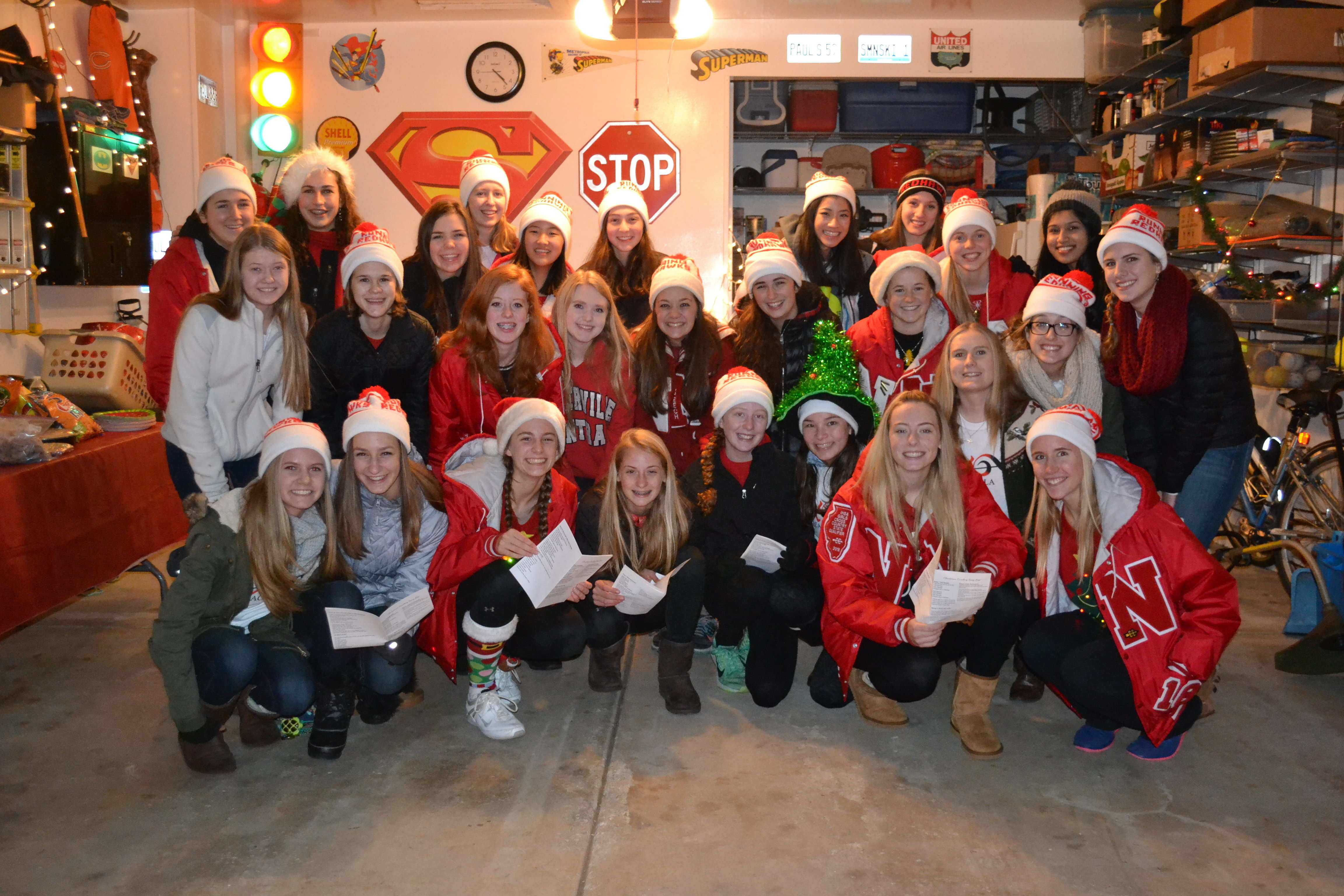 The rest of the year, Szymanski keeps busy formulating fun activities for her friends. Last summer she convinced several people to bike 58 miles round trip to the nearest Krispy Kreme in an epic quest for what she believes to be the best donuts in the world. She is also currently planning a road trip to Niagara Falls over spring break.
"People do it because it's fun, but I like to think I'm a cult leader," Jane said of her ability to inspire people to join what at first glance look like crazy schemes. "Yeah people like to do stupid things, and I like to lead stupid things."
Photos by Mary Szymanski.