Money Hawk: 11/4/16 market update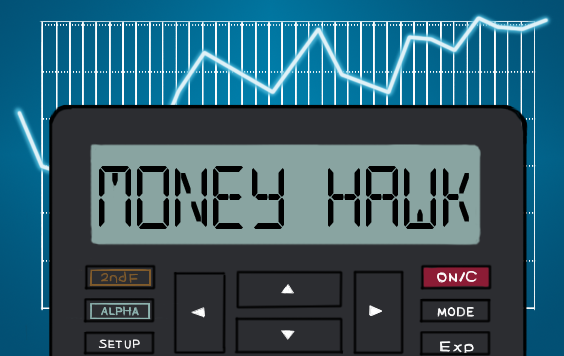 Hang on for a minute...we're trying to find some more stories you might like.
Money Hawk is a weekly finance and investment blog by Zain Habib and Matt Gazall. While Habib and Gazall are market enthusiasts they are not licensed professionals. The views and opinions expressed in this article are those of the authors and do not necessarily reflect the views and opinions of the Central Times.
---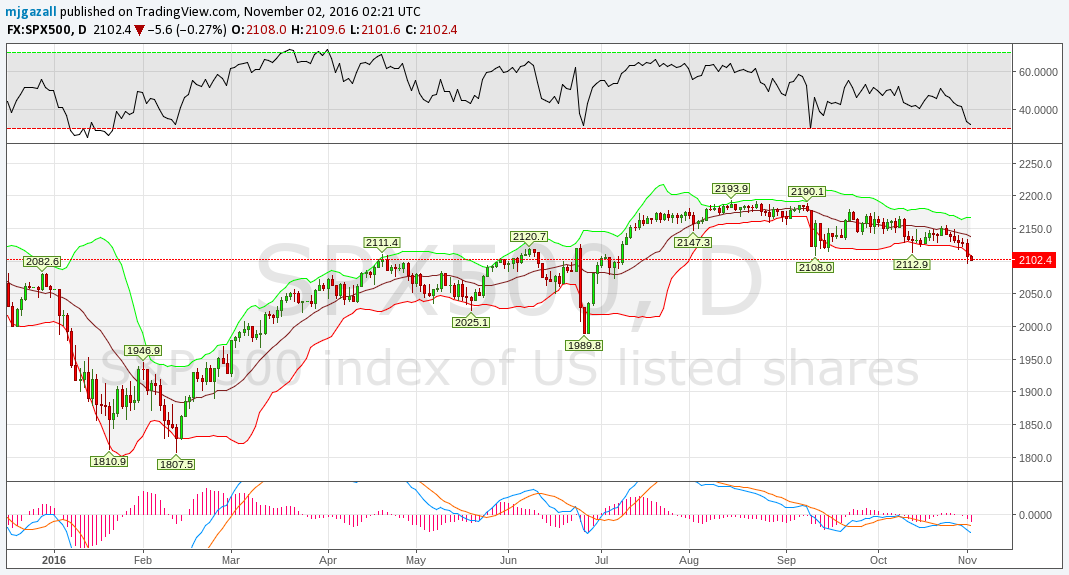 Market Update:
This past week has been uneventful  in terms of price changes for the Dow and S&P 500 indexes. Monday is month end and even for the whole month, the price changes have been small with DJIA nearly unchanged for the month and the S&P 500 down about 2%.
We think markets are marking time sideways as investors wait to see how the election on Nov 8 – just a week from next Tuesday shakes out.
In the bigger picture,  both the Dow and S&P are about 13% off the lows at the start of January.  With the election in front of the market though no bold predictions to make but we could be in for some selling as leading up to Nov 8th as investors trim back positions, take profits if made and continue to prepare for the Fed to officially raise interest rates in December.
It's been a very eventful week in terms of earnings however. About a third of S&P 500 companies posted quarterly earnings throughout the week. Apple reported strong earnings with revenue climbing 20%, while Amazon earnings fell short, missing estimates by 26 cents a share. Tesla on the other hand surprised us all, coming out this quarter with a profit and beating estimates by $1.25 a share. Chipotle was another big one that investors eagerly awaited. Unfortunately it posted earnings of .78 cents a share, missing estimates of $1.58. This resulted in large losses for the stock.  
A global bond selloff drove the yield on the 10-year U.S. Treasury note to its highest in 5 months this Thursday. This didn't come as a surprise to traders however, as the selloff was accompanied by high volume in both the cash and futures markets.  
Outlook:
Again, we see the market consolidating for the past couple of weeks, and we expect some selling to take place for some time, given all the geo political events, talk of a hike in interest rates next month, and the election coming up. The uncertainty in global markets have prompted investors to begin to take cash positions and investor cash levels have represent 5.8% of portfolios, the highest in 15 years. In the past investors perceive taking a cash position as a sign that equities might take a hit in the near future, however there could be another side to this regarding high cash levels. Stocks are trading for more than 20x trailing earnings, credit spreads are tight, and volatility is slightly below 35% its long term average, so it can be difficult to determine the market sentiment during these times.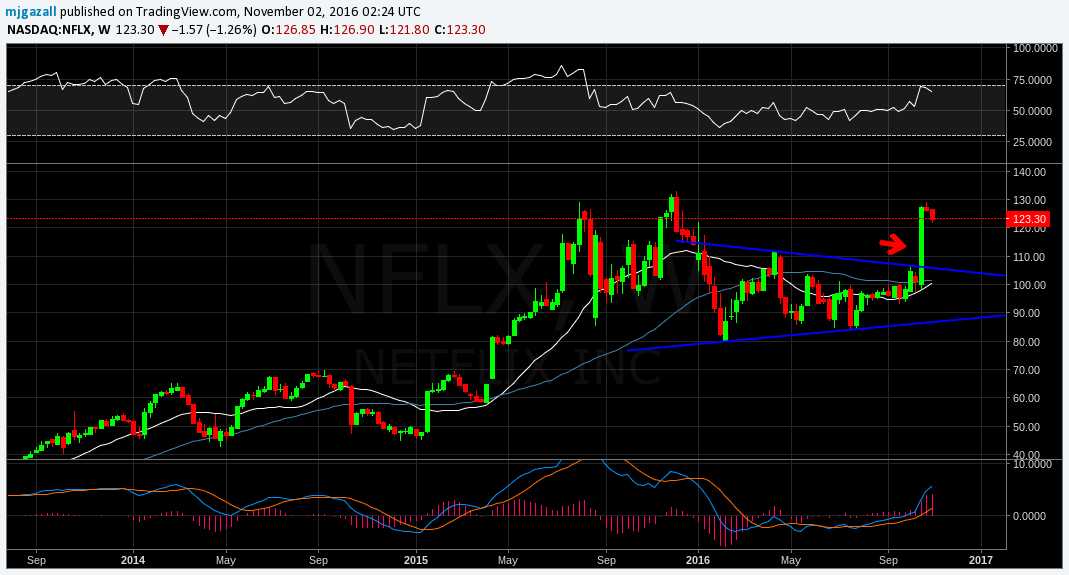 Stock of the Week: $NFLX
Netflix soared over 25% this week, mainly from the huge subscriber growth reported in Q3 (370k net subscribers in the United States). The streaming service posted earnings of 12 cents a share versus estimates of 6 cents a share, but what really drove the price higher was the increase in subscriber growth.
Merger Talk:
AT&T and Time Warner continue to push ahead with their merger, despite pressure from antitrust regulators in the government. The 84 billion dollar deal is set to make another entertainment conglomerate following in the footsteps of Comcast, Scripps Networks, and Discovery. AT&T's path to vertical integration has been proven to work in the past. But for some reason, news of this merger hasn't bode well for the stock. Since the news of the potential merger broke in early September, AT&T's stock has suffered over a 10% decline. It might be that the market is rejecting further consolidation in the entertainment and media industry. But the theory that is more than likely is that markets still don't believe that the acquisition will be successful. On the other hand, Time Warner's stock received a lifeline from AT&T. In the past year, the stock hit a snag on low subscriber growth and disappointing earnings. News of the merger provided a boost for the stock, which just broke a 52 week high this week of $88.70. We believe that shares will continue to rise as the merger slowly becomes a reality.