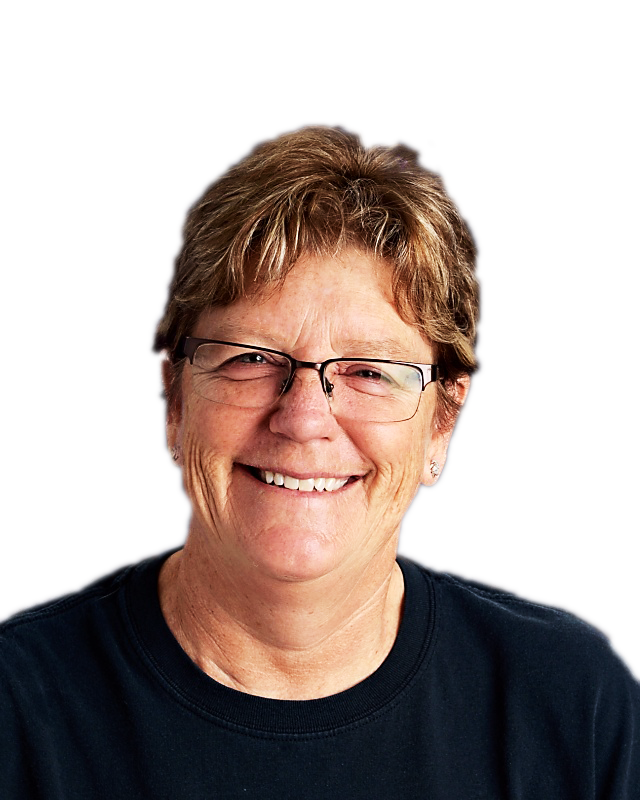 Q: How long have you been teaching at Central?
A: This is my 35th year. I subbed before that and I also went to Central. I've lived here my whole life. I went to Elmwood, St. Raphael, Lincoln and Naperville Central. I interviewed here when I first got out of college and I actually didn't get the job because they were looking for a dance teacher. My parents always told me it was a blessing in disguise, and it was, because I was getting ready to be a swimming aid at Waubonsie which was a brand new school at the time. That's where I student taught. About a week before North was about to start school, one of my professors called me saying they had just gotten a grant for something called "Adaptive PE" and they asked if I wanted to come back and be a grad assistant. So then I decided, you can never have too much education, so I went back. At the time we didn't have special ed kids in our schools so it was a new experience. Everybody thinks I went to school to be an Adapted PE teacher but I didn't. That's why I always tell people to keep their minds really open because you never know which way your life is going to go. So I got my masters, and then the next year Naperville's population was exploding so they hired four new PE teachers at Central.
Q: What's your favorite class to teach?
A: At the beginning of my career, I taught regular [education] PE classes because we didn't have a lot of special ed here. I coached for about 10 years so my life was focused heavily on sports. But then I started with one section of adapted PE and it's grown so much from there. I love to teach, so my passion shifted to teaching adapted. I was always the teacher who looked after the students who didn't love PE. I had a passion for making them enjoy being in PE. You don't have to be athletic, you don't have to a superstar, you just have to enjoy and being with people and moving. I did a lot of weird classes like I do in adapted. I did international games one time where we played lacrosse before it really existed and field hockey and bowling. We played cricket, which I didn't really know how to play, but we made it up. We would dress up for each event, and then at the very end the week we would walk downtown and get a snack. If it was a French game we would get a croissant, something that matched the event. I made up stuff and it was super fun because it didn't matter if you were good or bad, we were all trying new things. PE is not just all fitness, it's a lot about gaining confidence and being social. To me it's really important to have fun. When I came to adapted, I started out with a few peers and then the show 'Survivor' came out. We modeled the concept of having tribes after that. We did crazy and silly 'Survivor' challenges and then we decided to design a shirt. The first year we actually tie dyed them ourselves which was a nightmare because it was so messy. My hands were died black for weeks. Then, we started to buy the shirts because everyone wanted to know who we were because we were doing super fun stuff. We went sledding and did the paddle boats, just anything that was super cool. The word got around. Now, 30 years later everyone wants to be a part of it and I want everyone to be involved, every walk of life. If you can hook a couple of kids on the outside, the kids who are having a hard time getting involved, then they invite their friends and it continues to grow. I'm so proud because everyone for the most part is so nice to each other. This is a special place and a big part of that is because we have so many peers in adapted PE. Their influence on the whole school is huge. Everyone wants to get involved.
Q: What has it been like teaching at Central?
A: I couldn't ask for a better place to teach. I always tell everyone if you're complaining about Central, go somewhere else. We want to keep the positive people here. The staff is awesome, and it is a super welcoming place. The influence the peers have is huge, and that is what has changed things. We see it with Adapted Art, which started recently, I would love to see an adapted music program. Now since everyone is nice to the special ed kids, be nice to everyone. Put yourself in someone else's shoes. That's a part of growing up and being in high school. I mess with people because in the big picture, if you're breaking a rule and not hurting anyone, just accept the consequence and don't do it again. I loved high school, so for me, I never left.
Q: What's your favorite memory?
A: I played a ton of sports when I went to Central and had so much fun. I was a tomboy. I was super involved and a good student and I had my circle of friends. On the inside I wasn't as confident as I looked, so I always try and tell people that it's okay to feel that way. Find your group of friends because if you have one or two really cool, close friends in your life you are doing pretty darn good. We had a group called 'The Hell's Hens' and we wouldn't go to dances. On the day of the dance we would just go out and have fun. Not drinking or anything, just fun. I always did super stuff like I do now. We loved to dress up. One time we made a giant hen head out of paper mache and shirts and we were running around Naperville. We would go to McDonald's with the head and the people would give us such crazy looks, it was awesome. We thought it was the funniest thing in the world.
Q: What are you going to miss most about teaching at Central?
A: I don't want to leave, but I have to financially. It's a bit of a blessing because I would probably never leave, you'd have to bury me in the honor garden. My number one job I applied for is at the Police Department to be a Community Education Specialist for District 204. If I can get that, it would be really nice. If not, I can be a campus supervisor at another high school. I'm waiting to see about the police job. I'm not afraid to work and I'm excited to see what comes next.