Ruffolo's Rankings: Week of Oct. 31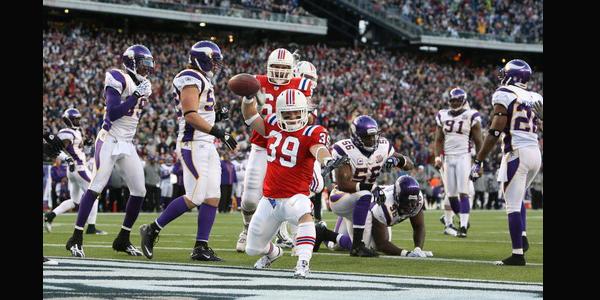 .
November 2, 2010 • written by Nick Ruffolo, Correspondent
Filed under Sports
1 Patriots (6-1) With the best record in the NFL, Bill Belichick as your coach, and Tom Brady as your QB, its hard not to give them the top spot.
2 Steelers (5-2) With the NFL's #1 rushing defense and Ben Roethlisberger back, this team can contend like they did when they won it all.

3 Colts (5-2) Although they have many injuries, they still have Peyton Manning, who could lead any team to the Super Bowl if he wanted.

4 Jets (5-2) With a great defense and running game they have a chance to contend; their only weakness is at QB.

5 Giants (5-2) After a shaky start, the Giants have roared back into the mix with their hard-hitting defense and above-average passing game.

6 Ravens (5-2) The dominant years of the Ravens defense seem to be behind us, but with Ed Reed returning soon, it could spark some life.

7 Falcons (5-2) With a solid RB in Michael Turner and an efficient passer in Matt Ryan, the Falcons could be a sleeper come playoff time.

8 Titans (5-3) With newly acquired WR Randy Moss, the Titans could open up some running room for the monster known as Chris Johnson.

9 Saints (5-3) After an impressive win over the Steelers, Drew Brees and the Saints are starting to show some life.

10 Chiefs (5-2) Some people may say the Chiefs are a fluke, but with RBs Thomas Jones and Jamaal Charles, they could pose a threat.

11 Packers (5-3) Speaking of teams decimated by injuries, the Packers still have their passing game and a lot of their defense intact.

12 Eagles (4-3) With Michael Vick at the helm the Eagles flourish, with Vick and Desean Jackson back from injury, this team gets a huge boost.

13 Texans (4-3) The Texans offense continues to flourish from Andre Johnson and Arian Foster, but their defense is dragging them down.

14 Buccaneers (5-2) The Bucs continue to win games despite a mediocre offense. Their wins aren't pretty, but they count.

15 Seahawks (4-3) Even without Deon Branch, the Seahawks continue to score and play good defense.

16 Dolphins (4-3) The Dolphins are a middle of the road team with some potential to make a late run.

17 Chargers (3-5) On paper the Chargers are one of the best teams in the league, but when it comes down to it, they find ways to lose games.

18 Redskins (4-4) Despite Deangelo Hall having a field day recently, they can't capitalize as the Redskins offense continues to sputter.

19 Bears (4-3) After a fast start the Bears are starting to show their true colors; it's hard to pass while Cutler is laying face down on the turf.

20 Vikings (2-5) Now that Randy Moss is gone, maybe the Vikings can go back to the game plan that wins games: give the ball to Peterson.

21 Rams (4-4) Sam Bradford has taken a 14 loss team and given them some life; I see a bright future for this kid.

22 Raiders (4-4) Darren McFadden is starting to prove why he was drafted #1 overall, if he can keep it up, I see the Raiders finishing near .500.

23 Jaguars (4-4) David Garrard has been inconsistent at QB, but Maurice Jones-Drew continues to light it up.

24 Bengals (2-5) If the Bengals can get it together defensively, I see some potential, but until then they will continue to sit near the bottom.

25 Lions (2-5) With Matthew Stafford back and the Lions in last place, the only way they can go is up.

26 Cowboys (1-6) Cowboys are by far the most disappointing team this season.

27 Cardinals (3-4) The Cardinals have 3 wins but their offense can't get it done without
Kurt Warner.
28 49ers (2-6) Mike Singletary's team is not living up to all its potential; some changes need to be made before this team can contend.

29 Broncos (2-6) After a great start, the Broncos continue to slide down the leaderboard with poor defense and no running game.

30 Browns (2-5) There isn't much to say about the Browns, they haven't shown any signs of improvement this season.

31 Panthers (1-6) The Panthers coming off their only win put up a poor performance vs. the Rams, leading me to believe that they are done.

32 Bills (0-7) The Bills are showing some life with the passing game but as long as they are winless, they will be stuck at the bottom.

3112