Clinching DVC proves no problem for team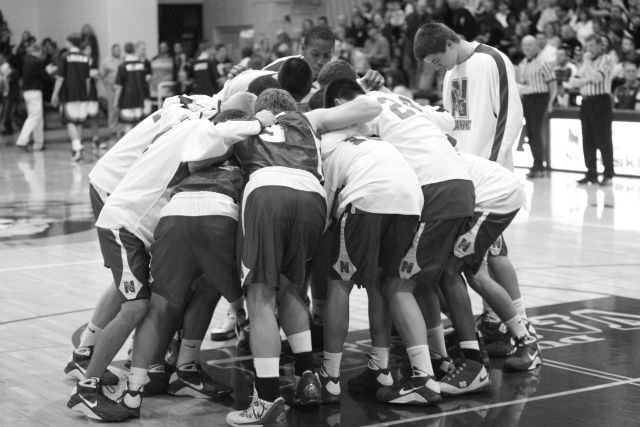 .
February 26, 2009
Filed under Sports
Not even Glenbard North could prevent the boys' basketball team from winning back-to-back DuPage Conference titles on Feb. 13.
Led by senior forward Drew Crawford with 24 points, the Red­hawks won their 11th straight conference victory with a score of 69-55.
"It feels really good [to win the conference championship]," Craw­ford said. "Last year we ended up sharing it with Wheaton North, but it feels good to win it out right this year, especially since it is my senior year. It feels good to end on a good note."
Ranked 16th by the Chicago Tri­bune and second by the Daily Her­ald, the Redhawks remain poised as playoffs grow near.
The Redhawks will tip off their first playoff game on March 3 against the winner of game one, Marmion Academy versus Willow­brook.
Junior Matt Neufeld thinks that hosting its own regional will serve as an advantage for the team.
"You can't get any closer than your home court," Neufeld said. "We have been playing here all year, and the students should really help us out a lot."
Crawford said the team hopes to surpass last year's regional champi­onship loss to Glenbard West. The team also lost two years ago in the regional champsionship to Hins­dale Central.
Seeded second in the Oswego Sectional, the Redhawks will face top teams such as Neuqua Valley and East Aurora.
To maintain the composure in playoffs, Crawford said defense is essential.
"We are really playing well," Neufeld said. "And that is the kind of momentum you need to head into the first round of playoffs."
Nick Schlund
Profile Editor

3128