Fund(s)raising questions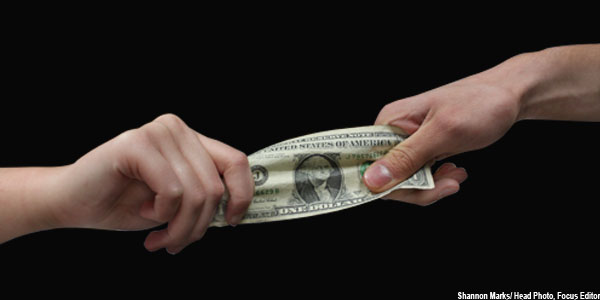 .
November 23, 2010 • written by Grant Myatt and Yasmin Gentry, Features Editor and Online Managing/Sports Editor
Filed under News, Showcase
Money, even before the current economic downturn, has always been a conversation on every level. From the federal reserves to first paychecks, it is hard for Americans to hide from the dollar that heats their homes and fills their gas tanks. One conversation, however, is more relevant to Central students.
With over 50 clubs and activities at Central, fundraising is often needed for organizations to support their functions and purposes, though many groups are feeling a struggle this year to raise money effectively. Very few receive start-up funding from Student Activities each year and must fundraise to meet their needs.
Lynne Nolan, dean of Student Activities, oversees all clubs and activities and must approve all fundraisers before they occur.
"All clubs and activities fundraise to provide for whatever their expenditures are," Nolan said. "There's no line item in the district budget for clubs."
Since money is tight, Nolan said that groups are not allowed to fundraise without a purpose. Instead, the club must "identify a need."
Nolan said that this fall was "a little different than the normal" because of a major athletic fundraiser selling t-shirts for the cross-town football game against Naperville North Oct. 1.
"The black-out shirts were a great cause [that supported] both schools in the town, and it made for good publicity as well as doing a good thing for [the charity] Easter Seals," Nolan said.
Nolan explained how timing is important to a fundraiser's effectiveness.
"We usually do fundraising [events] for about a week, but arrangements were made to sell the black-out shirts for two weeks, which is a long time to have that in front of the student population," Nolan said. "It [also] takes a week away from another group that might want to be selling something else."
Nolan also noted that right after the black-out shirts finished selling, the volleyball team started to sell "Volley for the Cure" t-shirts the following week, and one sale ended up affecting the other.
"This year, when the black-out shirts came, I [thought it was] the equivalent to Volley for the Cure," said Nolan, "only to find out, as the black-out shirts were winding down, Volley for the Cure shirts [were starting up]."
Nolan, in turn, planned to sell freshmen class t-shirts in the beginning weeks of school, but chose to put off the sale because of the timing that interfered with the other t-shirt sales.
"I didn't want to take the shirt money away from a freshman who's trying to make the decision– do I support the black-out, or do I buy the class shirt?" Nolan said.
To avoid problems, Nolan works to regulate fundraisers in order to help them reach maximum potential.
"The thing I always ask a club is 'What's the goal?' because we don't want to fundraise just for the sake of fundraising, because you do tire out the clientele," Nolan said.
Although some clubs can operate without money, other clubs require funds to participate in activities and events.
In need of money, the Speech Team has worked hard to find new ways to collect funds to support the team, said Anisha Bhatia, senior and team co-captain.
"Previously, we put on Central Stage as our main fundraiser, but due to construction, the auditorium is no longer available," Bhatia said. "Instead, we will be selling drawstring bags, concessions at basketball games and t-shirts at the Tournament of Roses competition."
Finding new fundraisers for the Speech Team involved a long process in which many ideas, like a combined talent show with Naperville North, were rejected.
"We had an extensive planning process, but lots of our ideas were shut down so we went to back-up ideas that we knew would be approved," Bhatia said.
Other clubs at Central are working to find successful fundraisers as well.
Earlier this month, the business club DECA initiated a fundraiser called "Letters to Santa," in which parents can fill out a form for "Santa" to send a letter to their children, and 80 to 90 percent of the profit will go towards the Honor Garden, according to DECA advisers and business teachers Katie Barry and Christine Bell.
The remaining funds will help off-set costs for students with financial need, lower costs for preparation materials, blazers for competition and DECA's national competition being held in Orlando this year. The club hopes to raise about $1,000 from Letters to Santa, overall.
DECA offered to donate funds to the Honor Garden after Nolan attempted to raise awareness of the garden last year.
"Mrs. Nolan had given a lot of information last year…and from there we knew this was a great opportunity to hopefully raise a lot of money…and in that way, donate to the Honor Garden," Barry said.
The Honor Garden is a project to remember those students from Central who have passed away and take care of our NCHS community, Nolan said.
Theatre Central also planned to raise money for the Honor Garden through their Comic Relief show, although it was cancelled Friday, Nov. 12 due to lack of participation. After Nolan approached the club, they agreed to donate 10 percent of its profit to the cause, said senior and Theatre Central president John Ludlam.
"Comic Relief is not our biggest fundraiser of the year but 10 percent is 10 percent that couldn't go to our main charity of choice," Ludlam said.
According to Nolan, the garden will cost about $150,000 for the initial concrete work. $75,000 has already carried over from last year, and Nolan said she is looking at a variety of sources to come up with another $30-50,000 through donations, or from accounts that haven't been designated by Student Activities.
Local companies such as The Growing Place in Naperville are willing to donate plants, Nolan said, but monetary donations have to come in first.
"…One of the reasons [the garden] needs to be part of what's on our radar is because we're in the construction process," Nolan said. "The first part of what needs to be done with the Honor Garden needs to be paid in cash…the [ local donations ] come after all the concrete and the earth moving is done, and that needs to be contracted out."
Nolan hopes to have the money raised by June while construction crews are still on-site to lower the expenses of building the garden. With consideration for the Honor Garden, Nolan emphasized the importance of balance in fundraising.
"I think my part of prioritizing is, what are we taking care of inside our NCHS community, and what are we taking care of that's outside of our community," Nolan said.
Nolan also believes that while clubs need money to function, consideration on projects with a long-term impact in our community, like the Honor Garden, are important too.
Looking outside the school, the Food Fight organization attempted to create a club at school, but was denied by Student Activities. Food Fight, a non-profit organization that fundraises and packs meals for starving nations, would benefit groups outside of the Central community.
According to Nolan, Student Activities does not approve clubs that only fundraise because it would be "counter-intuitive to all the other [Central] clubs" who raise money "to do the activity part of the club," but she said she would be happy to support [Food Fight] in their endeavors.
"I think that fundraising [at Central] is very limited to something like t-shirt sales," said Brad Hicks, one of the Food Fight organizers. "So the things they are raising money for are good causes and diverse, but the way they do it is very limited."
While there is still a struggle to raise money in and out of the Central community, Nolan reminds students of the importance of club membership and its impact on high school life.
"I want kids to have an opportunity to belong to Naperville Central, to affiliate themselves with our school through a club, activity or sport," Nolan said. "I just think it enriches the experience."
Although there is a general understanding, frustration is still present among some students who feel as if the club and fundraising processes do not support the student interest that Nolan refers to.
"Who would want a club rejected?" Hicks said. "People are going to fundraise and give money to the things they are passionate or care about and the students should be allowed to decide how they donate their money instead of having it just cut off from the beginning."

30e9