School introduces plans for honor garden renovations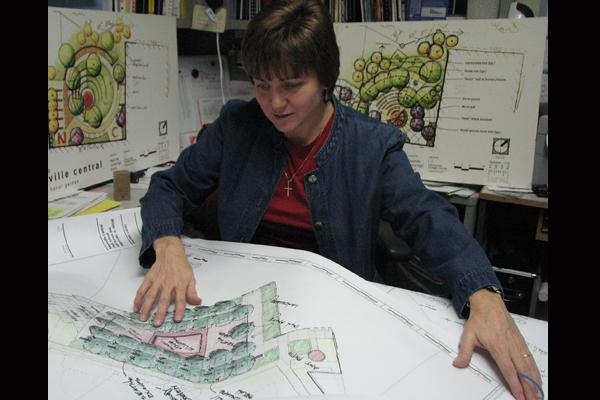 .
February 23, 2010 • written by Shannon Marks, focus/photo editor
Filed under News
After postponing plans to expand Central's "Honor Garden" in the courtyard, efforts have recently begun to raise funds and start work on the garden.
Despite putting the project on hold after first announcing renovations to the school in 2005, work has started on changing the garden, said Lynne Nolan, dean of student activities.
"We're adding a sensory garden to appeal to the senses," Nolan said. "It's an exciting piece that's more current in our thinking than where we were when we began this journey."
The sensory garden will accommodate multi-needs students, including wheelchair paths and raised plant beds, Project Manager Katie Long-Piper said.
Nolan hopes to use the redesign to honor those who died while at Central, and improve the courtyard.
"Our courtyard hasn't changed for about eighteen years. It's hideous, it's ugly, it's not welcoming and it's really run-down," Nolan said. "To enhance that courtyard, we can incorporate honoring those who have passed away during their tenure here."
The cost of the Honor Garden is around $300,000, although they have accumulated $50,000 through private donations and initial fundraising, Long-Piper said.
This year's Air Band and garage sale, along with a chess tournament for elementary school students and an auction this June, will benefit funding for the Honor Garden.
Although renovations to the school initially halted efforts, Nolan hopes to have garden completed when the school's reconstruction is completed.
"Now that we know what our space looks like," said Nolan, "we know what the renovations have in store. It's our time, our moment."

3153